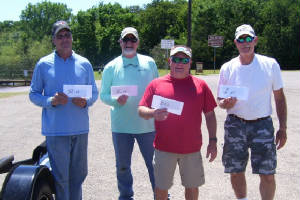 Robert 3rd, Tony 2nd, Duane Big Bass, Richard 1st
Hey, we are back. Been a while, and I will do better this year at keeping up this site. We hit Amon Carter on what was the best weather we have had for fishing in year. The lake was great to some, and difficult for others, but I am sure fun was had by all.
By the numbers, we had 16 anglers hit the lake in 10 boats. 25 fish brought to the scale for a total of 72.20 Lbs. Had one fish take a nap, so not all were released to be caught another day. Richard notched his first Cast-A-Way win bringing in 4 fish that went 12.59 Lbs. Tony Platter got his first Cast-A-Way money by catching 4 that weighed 10.69 to take second, and Robert Allen rounded out the money spots with 3 fish that were 10.59 Lbs. Duane Koch took Big Bass and another Calcutta with a 9.78 Lb Hawg.
We will be heading to Arlington in June. This lake always turns out to be a wildcard. Usually a make or break lake for the points, but still always a lot of fun.
Until next month, good fishing to all, and tight lines.
Thanks to a great club,
Jerry
Cast-A-Way President
Join us on Facebook at