Alex 2nd, John 1st and Big Bass, Richard 3rd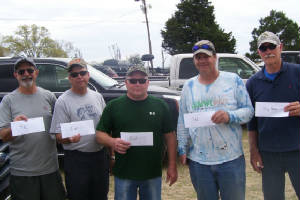 Richard 3rd, Duane 2nd, Guy 1st and Big Bass
Ok, want to take this time to thank everyone for all the thoughts and prayers. My brother still has a long road ahead, but he is well on his way to the best recovery we could hope for. It helped knowing I had the entire Cast-A-Way family in my corner. My brother has been moved in with his son in Arizona, and I should be able to get back to a regular schedule, and back on the water.
From the looks of things Arlington, and Eagle Mountain were a little hard on the club. Good to see some new faces in the money, and some long time members getting back in the swing. Glad to see some names at the top of the standings that have not been there in a while. Do not expect I will hear "We need rain" for a while. Once the water recedes, we should be in for some good fishing.
Next month we are supposed to go to Grapevine for our first night tournament of the year. Looks like we may not be able to get on Grapevine by then. We talked at the last meeting about flip flopping Grapevine and Eagle Mountain night tournaments. Sounds like a good idea, but we will discuss it at the next meeting.
Until next month, good fishing to all, and tight lines.
Thanks to a great club,
Jerry
Cast-A-Way President
Club members can join the Cast-A-Way e-group
Or join us on Facebook at